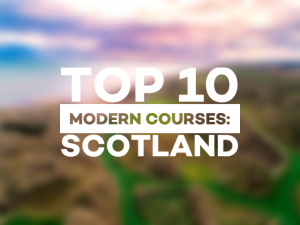 Top 10 Modern Courses Scotland  
According to the Pioneer Golf staff of trip planners and PGA / LPGA Professionals, here is our ranking of the Top 10 Modern Courses (accessible to our customers) and some candid quotes:
10 ) Dundonald (2003): "originally named Southern Gailes until Kyle Phillips redesigned it"; "I often recommend it for arrival day because it has some carts for the tired travelers"; "a very good links which has improved with time"
---
9) Machrihanish Dunes (2008): "a unique minimalist design for this part of the world"; "by all means sooner or later you have to play here and next door at Machrihanish GC"; "one of the best walks in golf"; "it's tough but beautiful"
---
8) Renaissance (2008): "it's great that some groups can play here on certain days"; "I love Tom Doak designs and this one is memorable", "always in perfect condition"; "the holes by the Firth of Forth are gorgeous"
---
7) Gleneagles PGA Centenary (1993): "big stadium course"; "was a great venue for the Ryder Cup and Solheim Cup"; "really beautiful and a nice change of pace from links golf everyday"
---
6) Dumbarnie (2020): "if it's half as good as everyone says it is, it will be a home run"; "never had so many requests for a course that hasn't even opened yet"; "we walked it and I can assure you it will be fantastic" 
---
5) Trump Aberdeen (2012): "big and theatrical just like the owner"; "expensive but a great course"; "they had to spend millions on the walking paths alone"; "when in Aberdeen a must play"
---
4) Carnegie Links (1991): "I was able to play it when we visited Skibo Castle"; "beautiful property and it seems we had the whole place to ourselves"; "it's evolved over the years to become a top flight links"; "heck everything at The Carnegie Club is special"
---
3) St Andrews Castle (2008): "they've softened and improved this since it opened"; "besides The Old Course my favorite of the St Andrews courses"; "you can't beat the views"
---
2) Castle Stuart (2009): "obvious similarities to Kingsbarns but with better elevation changes"; "wide open fairways but the greens are pretty demanding"; "superb customer service and restaurant"; "they know how to treat guests"
---
1) Kingsbarns (opened 2000): "without a doubt our clients favorite"; "the service levels are best in Scotland"; "the best as far as I am concerned"; "I always recommend that groups take advantage of the two round reduced package price"
---
Do you agree with our rankings? There is no right or wrong answer, only the passionate views of our experienced Pioneer travelers. Any hidden gems that we might have missed? Please reach out to us on Facebook to leave your feedback! Interested in playing any of these courses? Click here to receive a free customized proposal!