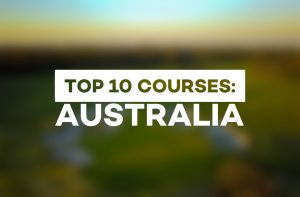 This weekend you'll probably watch some of the world's best golfers battle it out on the lightning fast greens at Royal Melbourne Golf Club.  The masterpiece Composite Course, designed in part by Dr Alister MacKenzie, will look mesmerizing with the gorgeous bunkering around the pristine putting surfaces.
Why only "in part" by MacKenzie?  That's because the Composite Course utilizes the best routing of the West (12 holes by MacKenzie) and East (6 holes by Alex Russell) for its layout. They combine these holes so that the golfers and spectators don't have to cross Reserve Road where the other portions of the West and East courses reside.
But since Russell was a protegee of the great MacKenzie, you won't be able to tell much of a difference between the West and East courses.  The look is very similar and without a doubt, both courses at Royal Melbourne should now be included on your bucket list.
Here's our Pioneer Golf staff Top 10 List for Australia:
10)  National GC Moonah(near Melbourne): Fantastic rolling landscape on the Mornington Peninsula about 75 minutes from downtown Melbourne. A wonderful Greg Norman design at this large, four golf course private club.  Pioneer Golf Staff: "Greg Norman did a good job here", "so much fun to play with great rollouts and memorable holes" and "in my opinion the best of the Mornington Peninsula courses."
---
9) The Australian GC (Sydney): Site of many Australian Open including 2014, 2015, 2017 and 2019. Very private but open to our visitors. Pioneer Golf Staff: "In America this exclusive club would be off limits to visitors, so you've gotta love the Aussie access", "stunningly beautiful facility" and "normally not a Nicklaus design fan but this place was special."
---
8) Lost Farm at Barnbougle (Tasmania): The other great Tasmania links course at Barnbougle opened in 2010 by the Bill Coore and Ben Crenshaw design team, now ranked GOLF Magazine World #89. Pioneer Golf Staff: "another classic Coore-Crenshaw design", "Coore and Crenshaw are the best of our generation" and "it reminds me of Bandon Dunes and that's a very good thing!"
---
7) Metropolitan Golf Club (Melbourne): Traditional old Sandbelt club with the prerequisite fast greens and menacing bunkers. Pioneer Golf Staff: "love how the greens are cut to the bunker edges", "classic Sandbelt look but more open off the tee" and "we met the nicest people there."
---
6) Royal Melbourne East: Six of the Composite Course holes come from the East for the 2019 Presidents Cup, and GOLF Magazine has it ranked #96 in the world. Pioneer Golf Staff: "I thought it was just as good as the West", "I would play either course at Royal, they are both fantastic" and "fastest greens I ever played."
---
5) Barnbougle Dunes (Tasmania): The teamwork of Tom Doak and Mike Clayton quickly established this Tasmanian course as elite, and it is already ranked #35 in the world by GOLF Magazine. Pioneer Golf Staff: "maybe Doak's best work", "like Bandon Dunes but with better weather", and "I recommend to everyone to add this for sure."
---
4) Kingston Heath (Melbourne): MacKenzie again had his influence on this course in 1928, it's the most exclusive club in the Sandbelt collection. Ranked #22 in the world by GOLF Magazine, Kingston Heath is pure class. Pioneer Golf Staff: "probably would rank higher if it wasn't practically next door to Royal Melbourne", "I've never seen such beautiful bunkering" and "I could play it every day for the rest of my life."
---
3) New South Wales (Sydney): The #46 ranked course in the world according GOLF Magazine, this Alister MacKenzie 1928 routing is easily the best in the Sydney area. Often voted our guests favorite due to the seaside setting and old school ambience. Pioneer Golf Staff: "totally exceeded my expectations", "great Alister MacKenzie routing" and "the ocean views are spectacular."
---
2) Cape Wickham Links (King Island, Tasmania): Several writers contend that Cape Wickham is a world top 20, and already GOLF Magazine has ranked it #60 in the world in 2019-20.  This may be the most dramatic seaside links on the planet. Pioneer Golf Staff: "harder to get to but well worth the effort", "pure and exhilarating golf right along the ocean" and "how this course is not top 10 in the world I'll never know."  
---
1) Royal Melbourne West: Opened in 1926, this is the finest golf course in the southern hemisphere. It plays firm and fast and is known for fast greens and superb bunkering.  RMGC West is ranked #7 in the world by GOLF Magazine in 2019-20. Pioneer Golf Staff: "it ranks right up there with St Andrews, Pebble Beach and the best of them", "has to be the best 36-hole private club in the world" and "the best Alister MacKenzie course you can actually get on."

---