Securing a tee time at The Old Course can certainly be confusing…
You may have heard that the only way to get on is through a lottery system or perhaps you've heard of 'guaranteed tee times'.  There are, in fact, four ways to get on the Old Course. Some are relatively inexpensive while one way is very expensive. Some ways are hassle-free while others involve plenty of moving parts. Some are available on the day of play while others require planning one to two years in advance.
The method you choose to play the Old Course will depend on a few factors. Amongst these are your budget, how far in advance you are planning the trip, and your appetite to take on some risk. Those who are risk averse and are willing to spend roughly $2,000 per person to 'guarantee' a tee time on the Old will lean toward purchasing a 'guaranteed tee time" from an Authorised Provider, like ourselves. This designation (spelled with an 's' as opposed to a 'z') is bestowed on a limited number of golf tour operators who are allocated tee times by St. Andrews. Most golfers who play the Old Course do not pay this hefty premium and instead choose one or all of three different ways to get onto the Old. It's important for a group leader to understand all four methods of securing an Old Course tee time since that decision is being made for all in the group. It's equally important for anyone joining a trip to understand what approach is being taken to hopefully play the Old Course as it's often a crucial component of a trip.
This objective of this page is to clearly present the various ways of getting onto the Old so that you can make an informed decision on how to approach this tee time. Our Golf Travel Advisers are happy to answer any questions.
The Four Ways of Securing a Tee Time
1.  "Advance Reservations" (other names: Private or Direct Application Process, Advanced Application)
Description:

The golfer submits an application to St. Andrews petitioning for a tee time. The application can have up to 8 golfers so multiple applications would be submitted for larger groups. 

When:

Applications must be in by early September with results announced in late October of the year prior to play. For example, applications for play in 2024 must be submitted by September 6, 2023.

Requirements: Two course requirement. You must play another of the St. Andrews courses (Castle, New, or Jubilee).
Price:

Face value + the required purchase of a £50 gift card for food/drink or the golf academy + a £50 fee.

Odds of Success:

In the five years leading up to the pandemic about 34% of our clients were successful. This process was cancelled for 2021 and 2022 tee times due to Covid. For play in 2023, 21.79% of our clients were successful. We attribute this drop to the increase in demand due to 2020 and 2021 groups having to reschedule to 2022 and 2023 and the spike in demand that always occurs the year after St. Andrews hosts The Open. The hope is that odds jump back up to 1 in 3 in 2024 as demand normalizes.
2.  "Old Course Ballot" (other names: Daily Ballot or Lottery) 
Description:

Essentially a random drawing. A card for every group that entered that day is placed in a pile and then randomly selected. Larger groups would submit multiple cards (4 golfers max per card) so they may get lucky on different days. A group must have at least two golfers to enter the ballot. Pioneer Golf manages this process for our customers.

When

: Your entry is made by Pioneer Golf two days before play and results are released the same day. For example, if you're in St. Andrews for six days, Pioneer Golf will enter you into the ballot six times provided the course is open.

Price

: Face value

Odds of Success:

10-40% success on any given day

or

a 50-97% if Pioneer Golf enters your group into the ballot on at least 5 consecutive days.

Approximately 50% of all tee times are allocated to the Daily Ballot. This is how the vast majority of all visiting golfers play the Old Course.

Depends very much on month. Want to increase your odds dramatically, go in April!

Certain days of the week provide better odds so we include these days if possible.

Avoid going on days when the course is closed or partially closed. We track all course closures in order to avoid arranging your trip when the course may be partially or fully closed.

Consider staying in St. Andrews for the entire trip. The more days you enter the ballot, the greater the chance of success. A trip with three days in St. Andrews and three days in a different area (for perhaps Turnberry, Royal Troon, Royal Dornoch) is not ideal for your ballot odds. There are plenty of top-tier courses in the St. Andrews area to keep you there for 6 days! The biggest mistake you can make is to stay in St. Andrews only for a few days if playing the Old Course is your priority.
3.  "Singles Golfers" (other names: Standby Line or Walk up Queue)
Description:

Anyone can stand in line on the day of play to hopefully get a tee time. This is ideal for singles but twosomes and foursomes are frequently available as well.  The early bird gets the worm and the starter arrives at 6am to dole out available times. Tee times also open up during the day as many people who may have booked in advance don't manage to come.

When:

On the day of play.

Price:

Face value

Odds of Success:

On average 20-30 people from the standby line get on each day… sometimes as many as 70 and sometimes as few as 10.

Where there's a will, there's a way! Get there early to get a tee time!
4.  "Authorised Providers of Old Course Tee Times" (other names: Guaranteed Tee Times)
Description:

St. Andrews has designated some companies as "Authorised Providers" of guaranteed tee times and allocates tee times to them each year. Pioneer Golf is an "Authorised Provider". Only about 5-8% of all visiting golfers play the Old Course using a guaranteed tee time as very few are made available.

When:

 Pioneer Golf receives a large allocation of guaranteed tee times each year.  In March of the year prior to play, we are told the number of times in our allocation. The following June, we are told the exact day and time of each tee time. We start selling our times long before March of the prior year since we know roughly how many tee times we will receive. Once we are allocated our guaranteed tee times, we allocate them to groups who have signed up based on their preference and their date of sign-up. 

Requirements: Two

 courses are required. Each Old tee time comes automatically paired with either a Castle, New, or Jubilee time. These times are only sold to groups of four or more.

Price:

Face value + a premium of roughly $2000 per golfer (includes a few extras). This is the most expensive way to get on the Old as each tee time includes a hefty premium over and above the green fee.

Only a small percentage of all golfers that play the Old Course in any given year will play using a guaranteed tee time due to the high cost or because they are all sold out when booking.
Availability: 

These times generally sell out 12-24 months in advance. 
So now that you know the four ways of getting on the Old Course, the following explains the two strategies you can select from when booking your trip. 
Essentially, there are two paths for securing a tee time at The Old Course. The end result of "The Guaranteed Route" is that you will end up with a tee time that is absolutely guaranteed. If booking before September 7 of the year prior to play, the graphic below illustrates that a guaranteed time at the hefty premium is reserved for you. However, if you're successful in the "Advance Reservations" process; then you use that tee time instead which saves you from having to pay the premium for the guaranteed tee time. If booking after September 7, then the "Advance Reservations" process will have passed so then a guaranteed tee time at the premium described above is allocated to you.
The Guaranteed Route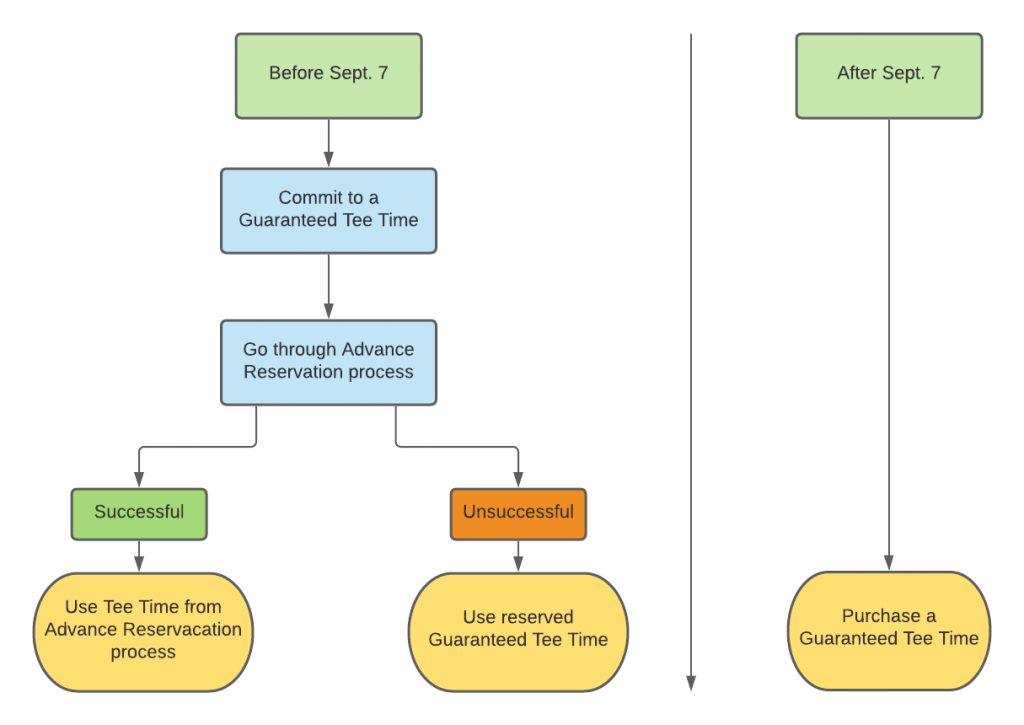 Most golfers are not keen on paying an arm and a leg for a guaranteed tee time from an Authorised Provider. The best approach that avoids the premium for a guarantee consists of three steps. Hopefully a tee time is obtained via the "Advance Reservations" process. If not, then we resort to the "Daily Ballot", and then the last resort is the Stand-by line. The following graphic walks you through the steps in this process. This is the process that 80-90% of our clients elect. Our Golf Travel Advisors can assist you in analyzing the odds of each step in the process. We have tracked these odds for over 20 years. Covid interrupted trips for two years (2020 and 2021) so the odds going forward may be influenced by greater demand than usual.
Three-Step Process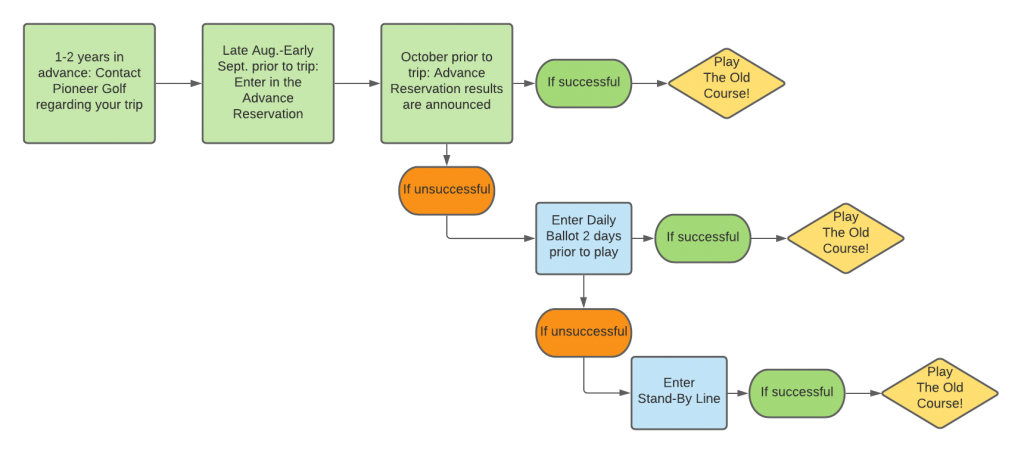 When is the best time to go and summary of odds by month:
There are several factors involved that impact the odds of getting a tee time through the Advanced Application, Daily Ballot or Standby Line. The odds depend heavily on factors such as the month of travel and the number of days a group spends in St. Andrews.