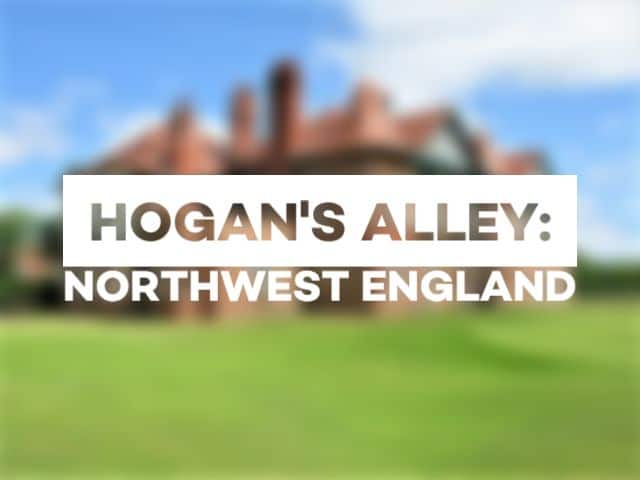 Hogan's Alley: 
Pioneer Golf Note: Bill Hogan is the new CEO of Pioneer Golf, an Austin, Texas based golf travel company which facilitates over 2000 guests per year overseas.  Pioneer Golf is an Authorized Provider of St Andrews Links tee times and specializes in value packages and luxury golf tours to the UK and Ireland. This week, Hogan discusses a great trip idea for 2020 and shares his thoughts below:
It's October and probably time to start thinking about your summer golf trip for 2020.  However, did you know that already many of the usual suspect courses are already sold out? 
For the most part, The St Andrews Old Course, Muirfield, Royal County Down and Royal Portrush are already sold out for next year. In lieu of those, what is a great trip that can still be arranged? That's easy: consider the northwest of England. 
In the area around Manchester and Liverpool, sit three frequent Open Championship courses, past Ryder Cup courses, a British Masters Course and many more. Every day you can play a great golf course and best of all you don't have to change hotels! 
Fly to Manchester (current nonstops from Atlanta, Boston, New York, Orlando, and Philadelphia) and within an hour you can be based in Southport or Liverpool, your base for the week of golf. Pioneer Golf has selected good, better and best hotels for each town within close walking distance to many restaurants and pubs.  
Beatles fans will love a visit to Liverpool and perhaps a stay at The Hard Days Night Hotel located right in the city center not far from the famed Cavern Club, where some say that "Beatlemania" began and to this day is filled with memorabilia and frequent tribute bands.  There are many inexpensive sightseeing tours for Beatles fans, and they are worthwhile and lots of fun. You can tour the Beatles Story museum, take a photo in front of The Beatles Statue, see Penny Lane, Strawberry Field, and the childhood homes of John Lennon and Paul McCartney. It's easy to fill a couple of afternoons after golf with some nostalgic Fab Four activities. 
Where to start with the golf? In no particular order, this area is among the best places in the world for an amazing collection of courses in a relatively small geographic area. Whereas Long Island retains the best collection, unfortunately most of these clubs are very private and completely inaccessible to most golfers. The commonly lauded destinations of the Melbourne Sandbelt and the Monterey Peninsula have a superb array, but the "England's golf coast" actually has more world ranked courses than either of them!  
Royal Birkdale, Royal Lytham & St Annes, and Royal Liverpool are all ranked in the most recent World Top 100 by Golf Magazine. Just outside the Top 100 echelon are Hillside and Formby, followed by Southport & Ainsdale, West Lancashire, and Wallasey all getting high grades. Do you need any more?
The top three "Royals" are easily justifiable and offer a memorable day of golf. No less than 33 Open Championships have been hosted across these links over the years, and we always recommend these courses to be included in your Pioneer Golf itinerary. 
Royal Birkdale GC, in my humble opinion, is the best of the lot and is conveniently located just on the outskirts of the charming town of Southport. The course sits on a large piece of linksland and most of the holes lie between dunes where you cannot see anyone else on the golf course. Past Open Championship winners here include Palmer, Trevino, Watson, and Spieth, among others in the 10 editions staged there. It's pure links golf and is an amazing experience not to be missed. 
One of my fondest memories of my golf travel career occurred at Royal Birkdale some 20 years ago when my buddy Mic and I, who together had played some 15 courses during a ten-day trip, found ourselves tied standing on the 18th tee box. The winner would be crowned "Champion Golfer of the Year" and would pick out a pullover of their choosing from the Royal Birkdale Pro Shop. 
It wasn't the prize that made us nervous, nor the fact that we had played 269 holes to this point and remained "all square". It was all about the bragging rights and who would wear the ceremonial sweater on the plane ride home.  
Who won? I'll give a hint at the end of this piece! 
Some people find Royal Lytham & St Annes to be quite difficult, due to the many bunkers on the course, a topic that nobody seems to get right. Try an internet search on "number of bunkers at Lytham?" and you will find counts of 167, 174, 176, 205, 206 … you get my drift.  There are a lot, to say the least.
I remember playing Lytham with my brother one year and he complained that he "hit it right down the middle of the fairway and it landed in a bunker". So, I responded that "you can't hit driver down the middle of THIS fairway" and that "you have to think on every shot". And that's what makes Lytham so fun … no two holes are alike and you have to pick a safe route on every hole or else you are taking a risk.  
And like many links courses, you don't really have to hit the shot right at the bunker to be caught by it. The terrain collects shots within 5 yards right or left of the bunker and the slopes all feed to the bottom, where sometimes they are so severe that you have to come out sideways.
Royal Liverpool, or "Hoylake" as its frequently called due to the small Liverpool suburb where it's located, is probably the most scorable course of these Royals but still offers plenty of challenge.  The last couple Open Championship winners here were Rory and Tiger, indicating that it tends to reward the best all-around players. Among the warmest receptions in golf, the staff at Royal Liverpool really "get it" and they make everyone feel welcome.
Hillside is my next favorite venue. Host to the British Masters in 2019, its most famous member is Tommy Fleetwood. Hillside is a rather unassuming club with no pretentiousness whatsoever, yet has perhaps the best back nine in England! I've had several friends comment that "it was the best of the bunch" and "I could play here every day for the rest of my life". Not much else needs to be said!
Formby GC was founded in 1884 and within the 470 acres sits the original 18 hole course plus the Formby Ladies GC, which together makes for a great 36 hole day. The original course is always ranked in the top 20 in all of England. These two Formby courses are always in tip top shape and wind through the dunes, but also feature many holes through the pine trees for a nice variety of looks. 
The other courses that round out a great week of golf include Southport & Ainsdale GC in Southport, which hosted The Ryder Cup twice (1933 and 1937). West Lancashire GC (between Liverpool and Formby) will host the R&A 125th Amateur Championship in 2020.  Wallasley is located near Hoylake and was designed by Old Tom Morris. It's most famous as "the home of the Stableford".
So now you know the courses that Pioneer Golf can set up for you. We have a stable of local drivers, or if you prefer, the area is actually quite easy to self-drive a rental vehicle for small parties of 2-4. In addition, we know the restaurants and pubs to recommend and like most British towns, there are plenty to choose from! 
Many of our guests love to stay at the four-star plus Vincent Hotel, the top choice of accommodation in Southport. A modern hotel with a cool vibe, The Vincent is the hip place to stay in town. We also recommend The Bliss Hotel, a four-star Wyndham property located on the Promenade overlooking the water, which is a fantastic value accommodation. Of course, there are always the smaller guesthouses and B&B's that makes Southport such a popular vacation destination.
Some might choose to base themselves in Liverpool too, at least for part of their trip, and the Hard Days Night Hotel (4*) is a great option, as well as The Malmaison located on Princes Dock overlooking the Mersey River. From either of these deluxe properties, the nightlife of Liverpool and the Beatles activities are much easier to access. 
One phone call to Pioneer Golf (800-262-5725) can set it all up and on one easy trip you can tick several world-ranked courses off your bucket list. We know where to play, where to stay, where to dine, and what to do. We'll make it real simple for you, so what are you waiting for? 
Heck, you might even win a nice sweater off your buddy!