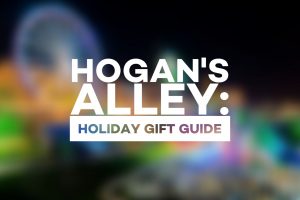 This week, Hogan discusses holiday gift ideas for the golfer in your life.
Let's face it: golfers are a finicky bunch. Each player is unique and they favor certain brands of equipment for various reasons.

Some shoppers might assume that a dozen golf balls would make a great gift, but if you get the wrong brand and or model, the recipient might just return them or leave them in the garage for years to come.

For instance, the Titleist brand alone makes six different models of balls. Then you can add various models from other manufacturers including Callaway, Taylor Made, Srixon, Bridgestone, Maxfli, Wilson, Top Flite, Volvik, Vice, and even one called Noodle.

To add to the confusion not all golfers prefer the color white, and now they make golf balls in pink, green, yellow, and even a soccer ball color scheme.  A dozen balls range in price from $18 to $55.

So, as you can see, simply getting your loved one "a dozen golf balls" isn't so cut and dry.

Therefore, allow me to suggest a few gift ideas for the golfer in your life:
GIFT CARD: The new Custom Apparel store from Pioneer Golf features all kinds of golf shirts, pullovers, sweaters, hats and gifts that you can easily customize with up to 2 logos. Let them pick what they want and customize it as they see fit! The easy-to-use Gift Cards will be sent to their email address and they can buy directly from the source!
CHARITABLE DONATION: A donation in your loved one's name to a golf related non-profit, not only helps others, but it can be quite heartwarming, not to mention tax deductible to you! Consider making a donation to these worthwhile charities: Birdies for the Brave, Save Muny, Environmental Institute For Golf, Tiger Woods Foundation, your local First Tee Chapter, Folds of Honor Patriot Golf Day, or even a $25 USGA Membership where they'll send a golf hat, bag tag and rules book!
CUSTOM PUTTER: The most famous putter brand is Scotty Cameron but for those who want something truly special consider a custom fitted putter created by Edel Golf. The Torque Balanced Technology won the Gold Medal from Golf Digest and are a real works of art. Like all golf clubs, often it's best to be professionally fitted to optimize the equipment performance. Contact them by clicking here: Edel Golf
TRIP TO IRELAND: This travel idea also has a feel-good nature to it because $1000 of the cost will go as a donation to "Save Muny", the Austin, Texas 1924 municipal course that Ben Crenshaw is fighting to preserve from development. Our Pioneer Golf Save Muny Tour to Ireland (June 14-21, 2020) will include golf at Ballybunion, Old Head and Waterville to name a few, and $1000 of the proceeds will go to Save Muny. Contact Nick Pateman for more information.
CASHMERE: Who wouldn't want a soft, durable, gorgeous cashmere vest or sweater? They will last forever and are the most comfortable kind of cool weather layering made for golfers.
MAGAZINE SUBSCRIPTION: Pioneer Golf loves the new format of GOLF Magazine and at $30 (some 65% savings off cover price) it's a gift that keeps on giving throughout the year. Another premium periodical is the quarterly Golfers Journal ($75 per year) for connoisseurs of elegant writing and rich photography.
ST ANDREWS OLD COURSE TEE TIME: Guess who can make that happen for you? That's right, Pioneer Golf! Because we are one of the largest Authorized Providers of guaranteed Old Course tee times, we can create a Scotland package to visit The Home of Golf.
TOURNAMENT TICKETS: Chances are there is a PGA Tour event somewhere nearby. Consider a set of tickets for a day or two and maybe they'll bring you along?
THE MASTERS:  Now who wouldn't want that?  Surprise your loved one with a trip to Augusta for the most famous golf tournament in the world!  Of course, these Masters packages come with a hefty price tag ($3,000-9,000), but at least you know they'll absolutely love it! Pioneer Golf can help with a wide range of Masters Packages for the week of April 6-12, 2020 by email or by calling 800-262-5725.
GOLF BALLS: Wait, didn't we already cover this? Anyway, let me give you a hint. Go to your loved one's golf bag and check for which brand and style is predominate in their bag. For instance, if they have six ProV1 balls by Titleist in there, chances are that's the kind they bought last, and would most certainly use again. Then, go to your nearest green grass Pro Shop and "buy local" from your PGA Professional (as opposed the big box stores).