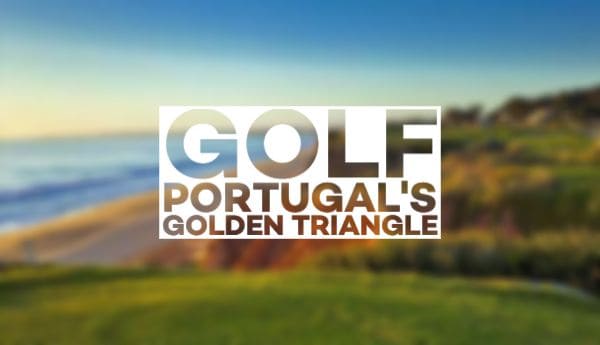 This week, the European Tour is headed for the Algarve, the sun-soaked southern coast of Portugal. I enjoy following the European Tour, not just because I happen to be European, but mainly because the players in Europe seem to take themselves just a little bit less seriously than their American counterparts on the PGA tour. Add in a relaxed and sunny destination like Portugal, and golf on the European Tour looks a lot more like fun than business.

Portugal also happens to be one of my favorite stops on the European Tour calendar. Once again, I'm more than a bit biased. I am lucky enough to call the Algarve my second home. It's where my parents live and where I hit my very first golf shot as a fair-haired four-year-old.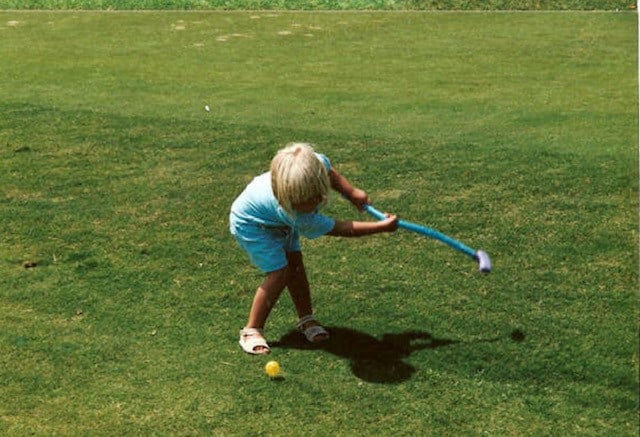 Lauren at Pinheiros Altos 
My swing has since improved and my hair darkened, but I'm still absolutely in love with the Algarve as a golf destination.

The Algarve equals miles and miles of coastline consisting of red cliffs and sandy beaches, along which you'll find one well-maintained golf course after another. Since Sir Henry Cotton designed the region's first golf course, Penina, back in 1966, the most southern province of Portugal has evolved into a golf-lover's paradise.

But it's not only the golf that makes Portugal a destination worth traveling to. It's the great weather, the beautiful coastline, the seafood, and the chicken piri-piri – Portugal's national dish of woodfire grilled spatchcock chicken coated in spices and fresh lemon squeezed over the top. When in the Algarve, make sure to check out Marufo for an authentic, casual but delicious meal that will guaranteed hit the spot after a day of golf.

The central hub for golf in the Algarve is the Vilamoura, Quinta do Lago/Vale do Lobo, Almancil area, locally known as the Golden Triangle for its high density of golf resorts and Michelin Star restaurants. It's certainly touristy, but don't expect to find one massive resort after another. The area has done a great job at not allowing any high-rises to be built, thus maintaining its picturesque views.

The European Tour this week will be in Vilamoura at Dom Pedro Victoria Golf Course, an Arnold Palmer layout and the newest of five Vilamoura courses. It is regularly compared to the Palmer South Course at the K Club in Ireland – but with better weather. Both Victoria and the Old Course at Vilamoura rank in the top-10 courses in Portugal according to Golf Digest. .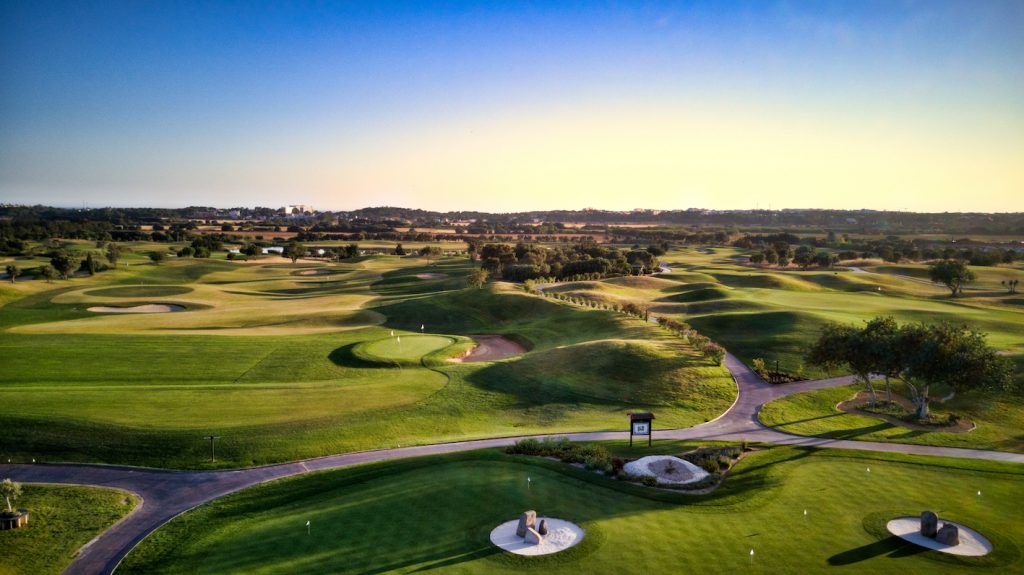 Dom Pedro Victoria
About 20 minutes from Vilamoura, in Quinta do Lago, you'll find San Lorenzo, a challenging but enjoyable classic layout that was built on a prime piece of property along the Ria Formosa's coastal Natural Park. The stunning views towards the ocean, the great layout and good course conditions deservingly place this course in Portugal's top-5.

Quinta do Lago itself boasts three courses – South, North, and Laranjal – that are all worth playing. The South Course is the most famous as it has hosted the Portuguese Open an impressive seven times. After closing in May of 2020 for renovations, it recently reopened to high praise.

A stone's throw away from Quinta do Lago is Vale do Lobo, home to the Royal and the Ocean courses. The cliff-top, par-3 16th at Vale do Lobo's Royal Course is undoubtedly the most famous hole of the Algarve. Stretching 225 yards from the back tees, with the ocean to the left and the Algarve's famous red cliffs to carry, it's an intimidating but stunning tee shot.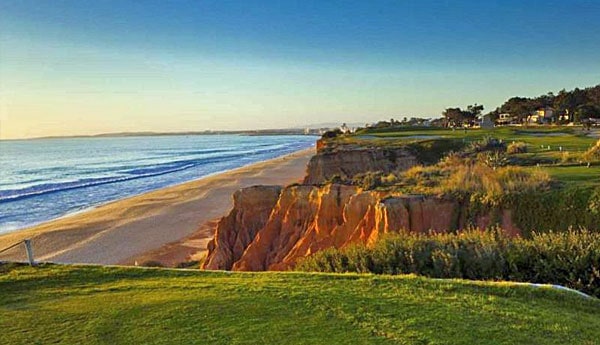 #16 at the Vale do Lobo Royal Course
Along the Quinta do Lago-Vale do Lobo beachline you'll find your choice of fish restaurants set right on the beach. Garrao Beach is my favorite spot for an after-golf lunch. After passing jaw-dropping modern mansions that are rumored to include soccer star Cristiano Ronaldo's vacation home, you'll find a red-dirt parking lot leading to a cluster of five simple-looking beach restaurants, my favorite being Izzy's. What better way to spend an afternoon than overlooking the ocean with a bottle of Portuguese Vinho Verde and fresh grilled seabass or sardines on the table, reminiscing on the morning's round of golf. In Dutch, we have a saying that goes "living like God in France." Whomever coined that phrase has clearly never been to Portugal.
It's not only the likes of Cristiano Ronaldo and Madonna (who is a permanent resident of Portugal) who enjoy spending time in the Algarve. It's not uncommon to run into European Tour players enjoying some time in the sun when they have a break in their tournament schedule. Last time I was in the area, I had lunch at Pizzeria Casavostra (another great restaurant recommendation) where I was seated at the table next to crowd favorite Andrew "Beef" Johnston.
Monte Rei
Finally, it would be impossible to write about golf in the Algarve and fail to mention Monte Rei. Currently ranked the number one course in Portugal by Golf Digest, Jack Nicklaus' Monte Rei is located about an hour from Quinta do Lago toward the Spanish border. Unlike most of the Algarve's courses, Monte Rei is set inland, the mountain setting providing stunning views across the hills and ocean. Apart from its beautiful golf course, Monte Rei is known for its high level of service and attention to detail.
When it comes to golf trips to the Algarve, the question really isn't if you should go, it's how do you select which courses to play, when there are so many great options to choose from. To that, all I can say is that 36-hole days are absolutely an option, as are multiple trips. If you're anything like me, you'll fall in love with the golf and the region and will want to return many times.
Lauren Van Gerven is the Business Development Manager at Pioneer Golf. She can be reached at 

[email protected]
For advice on 2022 trips – visit our suggestions page here.
If you are thinking about a 2023 trip, now is the time to reach out! Due to 2022 availability challenges, many groups have pushed their travel plans back a year. Because of this, we expect the 2023 season to sell out much earlier than anticipated.
For more information on 2022 or 2023 golf trips, email us at [email protected].