Would you like to take a Scotland golf vacation that includes a coveted guaranteed Old Course tee time? Can you travel in April or early May 2019? 
Complete our short form to let our Scotland golf experts help you plan your trip. From the courses you should play, to where you should stay, and how to get around, we'll prepare a customized itinerary and price for your trip.
Reasons to book now for April or early May 2019
1. Guaranteed Tee Times on the St Andrews Old Course. We are an Authorized Provider of Old Course tee times, and we have just a few times remaining. We sell our times on a first-come first-served basis. Here is our current availability (as of 2/20/19):
Week of Travel
(exact dates are adjustable)
Number of Golfers
April 21-27, 2019
2 golfers
April 28-May 4, 2019
2 golfers, 4 golfers, 8 golfers
2. Our April and early May 2019 Prices Are Heavily Discounted.  Our April and early May 2019 trips are discounted approximately $800 to $1,000 per golfer versus the identical trip booked for 2020. This is last-minute pricing to ensure we sell all inventory and it's unlikely you'll find a better price, ever. 
3. Against the British Pound, the Dollar is stronger than it has been in a decade. Now is a great time to book a vacation to Scotland. Upon receipt of a group's initial deposit we purchase a forward currency contract, locking in the exchange rate for the entire cost of the trip.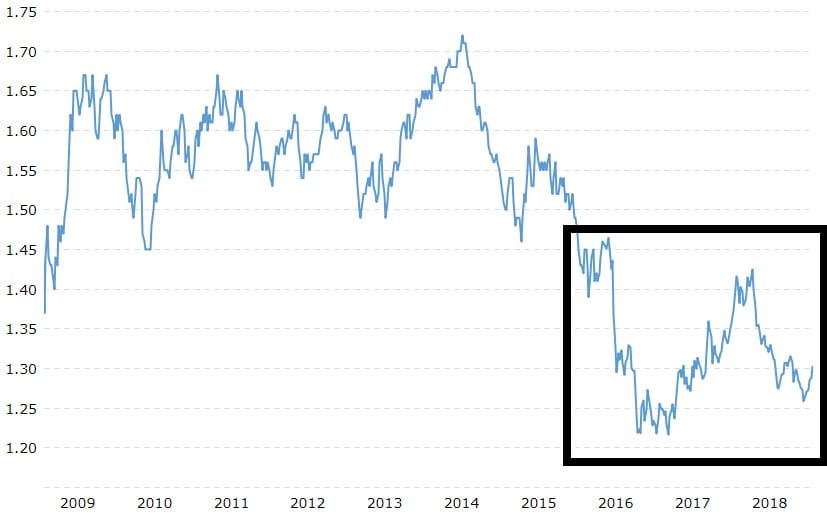 Dollar vs British Pound 2009-2018.
What to Expect from Your Free Quotation
Step 1: Complete the form to give our Golf Travel Advisors an idea of what you're looking for.
Step 2: Expect a short phone call to discuss more specifics.
Step 3: Receive a free, customized itinerary and trip price with no obligation to use us.
What Not to Expect
Don't expect to be bothered — We are thankful that you're considering us to help fulfill your dream of golfing in Scotland. We would never dishonor that trust by bombarding you with unwanted emails or phone calls. Your contact details will never ever be sold, shared, or otherwise leave our office.
Don't expect a hard sell — Quite honestly, we hear from customers again and again that the depth of our approach, the enthusiasm of our staff, the quality of our service, testimonials, and the competitiveness of our prices do all of the selling for us.
Why Choose Pioneer Golf
Scottish born, but US based — We can offer you an insider's perspective on the courses, the accommodations, the pubs, and the sights while also giving you the comfort of dealing with a US based company.
Golf trips to the British Isles are all we do — Just like golf, being excellent at what you do takes practice. We've been helping people take their dream trips to Scotland and Ireland since 1971. This is our life and yes, really, our passion.
We consistently exceed our clients' expectations — Don't take it from us, take it from our clients. You'll see from the quotes on this page or the many letters we share on our testimonials page, that we consistently exceed our clients' high expectations.