USING ELECTRICAL EQUIPMENT IN THE UK AND IRELAND
It is important to note that the plugs and sockets in the UK and Ireland are different from those in the U.S. and Canada. The power supply is also different.
PLUG ADAPTORS
Plug adaptors do not change the electricity supplied to equipment; they simply allow the device to be plugged in to a different type of wall socket.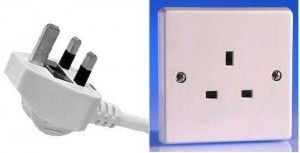 Most laptop computers, mobile phone chargers, and battery chargers are dual voltage. The equipment should be marked as follows: 120/240v, 50/60 Hz. In that case, only a plug adaptor will be required. It is not advisable to leave any device plugged in longer than necessary.
POWER CONVERTERS
These are the differences in electrical supply:
| | | |
| --- | --- | --- |
| | Voltage | Frequency |
| The UK and Ireland | 220-240v | 50 Hz |
| U.S. and Canada | 120v | 60 Hz |
Power converters step down the voltage, allowing equipment which is not dual voltage to operate at the voltage for which it was designed. Converters do not alter the frequency at which electricity is delivered and they are not designed for continuous use. One to two hours at a time is the maximum advisable.
A converter will be required for common electrical equipment such as shavers and hairdryers. (Most hotel and guesthouse bedrooms will have a hairdryer available for your use.) Most of the bathrooms will have a two-pin 110V to 120V plug for shavers, which will accept an American style plug and allows 120v shavers to run safely. DO NOT PLUG OTHER DEVICES INTO THIS OUTLET.
WHERE TO PURCHASE
Adaptors and converters are widely available on Amazon or most electronic stores.