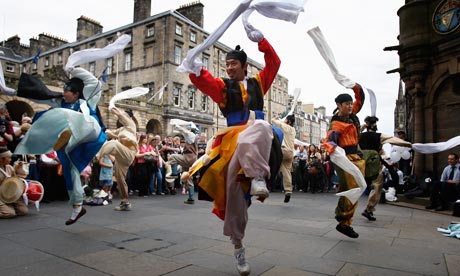 Every summer, Edinburgh is host to nearly a dozen festivals. The Edinburgh Festival, a collective term for five of the festivals, includes the highly selective International Festival, the Fringe, the International Book Festival, the Jazz & Blues Festival, the International Film Festival, and the Arts Festival. The International Festival alone attracts nearly 350,000 visitors to Edinburgh every summer.
Following are details about a few of the festivals:
The Edinburgh International Festival (www.eif.co.uk), a three-week performing arts festival of music (especially classical music), theater, opera, dance, and visual arts will be held this summer from August 8  through 31, 2014. Programs (including ticket prices and reservations) will be available beginning in late March.
The Fringe Festival (www.edfringe.com), which began as an offshoot of the International Festival, has become not only the most popular tourist destination in Great Britain, but also the biggest arts festival in the world, with an anticipated 2000 shows in 200 venues this summer. Unlike the International Festival, which only includes artists who have been invited to perform, the Fringe is an open arts festival, available to all performers. Caveat emptor: anything goes at the Fringe, including the great with the inconsequential, the creative with the merely odd. The Fringe Festival runs from August 1 through August 25, 2014. The program will be available in June.
Concurrent with these festivals is the Military Tattoo (www.edintattoo.co.uk), a "unique blend of music and military theatre" with performances August 1 through August 23, 2014. All performances are expected to be sold out by April.
"The August Feast: A Punter's Perspective on Edinburgh and its Festivals," by Brian King is an illuminating, idiosyncratic, informative, and comprehensive guide that the author has made available online at: www.edinburghfestivalpunter.co.uk.
General sightseeing information can be found here: www.edinburgh.org
If you will be visiting Edinburgh, it is very important that you make your dinner reservations now if you have plans to dine at a particular restaurant, or two. There are numerous online sources for restaurant reviews and information. Here's one that might be particularly helpful:
www.toptable.com/en-gb/location/content/?l=464