Driving on the left side of the Road
Driving in Ireland is on the left (opposite) side of the road. The adjustment is not difficult. Stay alert when turning or when traveling on less active roadways where it is easy to forget until you come face to face with oncoming traffic.
Roundabouts
When entering "roundabouts" (rotaries or traffic circles) the traffic moves clockwise. Cars already on the roundabout have the right of way and you must always yield to traffic coming from your right.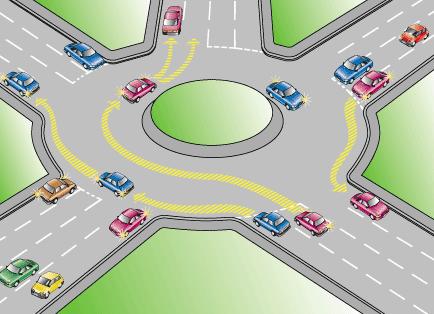 Speed Limits
In the Republic of Ireland and in Northern Ireland the maximum speed limit, which is shown in miles, is more or less the same as those in Britain.
30mph (50 km/h) in built up areas
60mph (95 km/h) outside built up areas
70mph (110 km/h) on motorways
On certain roads, which are clearly marked, the speed limits are either 40mph (65 km/h) or 50mph (80 km/h). Where there is no indication, the speed limit is 60mph (95 km/h). In the Republic of Ireland, vehicles towing caravans must not exceed 55mph (90 km/h) on any road. Speed limits are more strictly enforced in Northern Ireland than in the Republic of Ireland.
Parking
Be careful where you park in Dublin City. Should you park your car in the wrong place, you may come back to find a big yellow lock or "clamp" attached to one of your wheels. There is a fee of €95 to have the clamp removed. In some cases the car will be towed and there is a higher fee to recover it. Major cities and larger towns offer a disk-parking plan. This involves purchasing a "parking disk" and displaying it on the dash or window of the car. Parking disks are available from most news agents and shops in the areas that have disk parking schemes.
Traffic wardens patrol the streets and an expired disk or a car with no disk will be issued a parking ticket. If you return to your car and find a ticket, follow the instructions on it to pay the fine. If you fail to pay the fine, the charge will automatically revert to the car hire company and you will be charged on your credit card along with any fees the car hire company imposes. So it is better to take care of it personally as soon as possible. Retain your receipt of payment.
Parking Restrictions
Parking prohibited at all times.
Parking prohibited during times shown on information plate.
Clearway: stopping or parking prohibited by any vehicle (other than buses or taxis) at the times shown on the information plate. During "Clearway Hours," a vehicle may not park at a meter or disk parking place provided in the clearway.
Parking prohibited during business hours. It is permissible to stop for the purposes of picking up or setting down passengers or to load/unload goods when these prohibitions are in force.
No parking at any time. It is permissible to stop for the purposes of picking up or setting down passengers or to load/unload goods when these prohibitions are in force. Business hours may vary from town to town but in most major towns "business hours" means Monday to Friday 8.00 a.m. to 6.30 p.m.