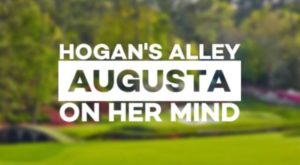 In this edition, Bill Hogan introduces you to Pioneer Golf's Mitzi Edge from Augusta, Georgia. 
The first thing you notice when talking with Mitzi Edge, the Senior Golf Travel Advisor for Pioneer Golf, is that she talks with a Georgia accent reminiscent of many Patrons attending The Masters this week at Augusta National Golf Club.
There's good reason for that, because Mitzi grew up in Augusta and The Masters Tournament played a formative role in her upbringing and subsequent career in golf.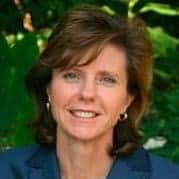 Mitzi Edge
When she was 6, her parents were allocated four annual Masters Badges and soon thereafter Mitzi was hooked on golf. She has many fond memories of her elementary school years spending Spring Break at "The National" and collecting autographs of Arnold Palmer, Jack Nicklaus and other larger-than-life golf stars.
"I distinctively remember Mr. Palmer signing autographs for hours and hours on end", she recalled, "and everyone who wanted one, got one." She remembers having autograph sheets with the players' names typed out, next to which the golfers would sign their name. Back then, they would even sign during their rounds.
But perhaps the best advantage of being a kid at The Masters is that the adults would always "let us up to the ropes" so she was front and center to all the action.
"Over time, I got to know every prime viewing spot, every hill on the property for the best views and how to navigate my way around the grounds." When you total it up, Mitzi has attended 46 Masters Tournaments and many of those years "we were there every day."
In high school, Mitzi joined her father working in The Master's Media Center. Her father would interview players for radio coverage and pass the recordings to the press. Mitzi, however, would run to the scoreboard, jot down the latest changes, and report player scores and updates to the AP radio announcer. "Basically, the listeners around the country were getting their updates from a 17-year-old girl" she joked.
What was the best part about volunteering at The Masters? "Yes, I got to play it" she fondly recalls, "which was a dream for a kid who grew up just a couple miles away."
Another early recollection was that after her first visit to The Masters, she "thought every golf course looked like that". Later in her career it became obvious that, indeed, Augusta National is not like every other golf course.
It is pretty apparent that living in Augusta and always attending The Masters had a significant influence on her career. It was not long before Mitzi won the Georgia Women's Golf Championship, and thereafter, FOUR consecutive Georgia Ladies Amateur tournaments.
She played at Westside HS in Augusta, right off Washington Road, just minutes from Augusta National GC. Her great prep career led to a scholarship at the University of Georgia where Mitzi won five collegiate tournaments. In addition, Mitzi was a four-time UGA Letter Winner, All SEC, and a two-time All American..
However, if the Georgia Bulldog tournament schedule allowed, she would try to return to The Masters every year.

She recalled a time when a young pro from Seattle strayed a little bit off line.
"Fred Couples fanned a drive to the right on 11 and it hit me in the back," she recalls. "It hit me so hard I lost my breath, but if I wasn't there, the ball would have ended up in the trees!"

She can joke about it now, but that memory does not compare to 1986, when she was a witness to one of the most famous golf tournaments ever.

That famous Sunday in 1986, Mitzi, her mother and aunt decided to follow Jack Nicklaus and Sandy Lyle for the last couple hours. Little did they know that Nicklaus would shoot 30 on the back nine. "We were there and saw every shot", she said, "including that dramatic putt on 17 when Jack raised his putter as the ball dropped in the hole".  Who could ever forget?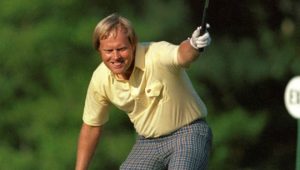 Jack Nicklaus
After college, turning professional was the logical next step and Mitzi played for 19 years on the LPGA Tour. She would travel the world during the LPGA season with regular tour stops in Palm Beach, Scottsdale, Oahu, Rancho Mirage and Kingsmill, VA.
"Of course, Hawaii was always a popular stop", Edge recalled, "and my favorite US Women's Open venues were Oakmont CC and Prairie Dunes CC."
During the winter, Mitzi would spend the off-season in Arizona or Florida to sharpen her game. But every spring, then as now, her focus would return to Augusta.
"I will always return to Augusta" she admits. "I may live in Austin now, but Augusta is my home."
To which we say "thank you" to the town of Augusta for loaning Mitzi Edge to Pioneer Golf!