The Four Ways of Securing a Tee Time
1.  "Advance Reservations" (Private or Direct Application Process)
Description:

The golfer submits an application to St. Andrews petitioning for a tee time at The Old Course. The application can have up to 8 golfers so multiple applications would be submitted for larger groups.

When:

Applications must be in by early September with results announced in late October of the year prior to play. For example, applications for play in 2024 must be submitted by September 6, 2023.

Requirements: 2 course requirement. You must play another of the St. Andrews courses (Castle, New, or Jubilee).
Price:

Face value

Odds of Success:

In the five years leading up to the pandemic we'd say the odds were about 1 in 3. This process was cancelled for 2021 and 2022 tee times due to Covid. In 2023, odds were about 1 in 5 due to three years of pent up demand following Covid and the increased demand from the Old Course hosting The Open in 2022. The hope is that odds jump back up to 1 in 3 in 2024 as demand normalizes.
2.  "Old Course Ballot" (Daily Ballot or Lottery) 
Description:

Essentially a random drawing. A card for every group that entered that day is placed in a pile and then randomly selected. Larger groups would submit multiple cards (4 max per card) so they may get lucky on different days. A group must have at least two golfers. Pioneer Golf manages this process for our clients and will rearrange rounds that may conflict with a success on the ballot. 

When

: Your entry is made by Pioneer Golf 2 days before play and results are released the same day.

Price

: Face value

Odds of Success:

10-30% success on any given day

. We recommend golfers enter at least 5 consecutive times to significantly increase odds. 

Approximately 50% of all tee times are allocated to the Daily Ballot. This is how the vast majority of all visiting golfers play the Old Course.

Depends very much on month. Want to increase your odds dramatically, go in April!

Avoid going on days when the course is closed or partially closed.

Consider staying in St. Andrews for the entire trip. The more days you enter the ballot, the greater the chance of success. There are plenty of top-tier courses in the St. Andrews area to keep you there for 6 days! The biggest mistake you can make is to stay in St. Andrews only for a few days if playing the Old Course is your priority.
3.  "Singles Golfers" (Standby Line or Walk up Queue)
Description:

Anyone can stand in line on the day of play to hopefully get a tee time. This is ideal for singles but twosomes and foursomes are frequently available as well.  The early bird gets the worm and the starter arrives at 6am to dole out available times. Tee times also open up during the day as many people who may have booked in advance don't manage to come.

When:

On the day of play.

Price:

Face value

Odds of Success:

On average 20-30 people from the standby line get on each day… sometimes as many as 70 and sometimes as few as 5-10. Where there's a will, there's a way! Get there early and get a tee time!
4.  "Authorised Providers of Old Course Tee Times" (Guaranteed Tee Times)
Description:

St. Andrews has designated some companies as "Authorized Providers" of guaranteed tee times and allocates tee times to them each year. Pioneer Golf is an "Authorized Provider". Only about 8% of all golfers play the Old Course using a guaranteed tee time as very few are made available.

When:

We get the number of tee times that we are allocated in March of the year prior to play and then the exact day and time of each tee time in early to mid-June of the year prior to play. We do, however, start selling our times long before March of the prior year since we know roughly how many tee times we will get each year.

Requirements:

2 course requirement. Each Old tee time comes paired with either a Castle, New, or Jubilee time.

Price:

Face value + a premium of roughly $2000 per golfer (includes a few extras). This is the most expensive way to get on the Old as each tee time includes a hefty premium over and above the green fee. 

Availability:

Generally sell out more than a year before play. 
Essentially, there are two paths for securing a tee time at The Old. One is the Guaranteed way, the other way, going through our three-step process, requires a little bit of luck. The below graphs explain the process.
The Guaranteed Route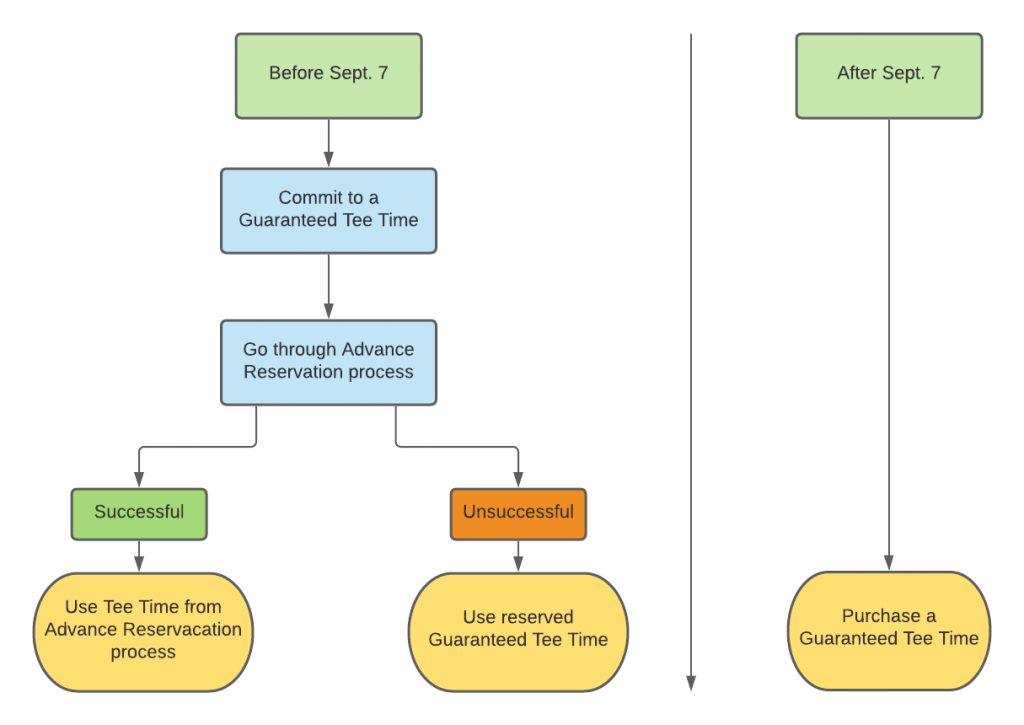 Three-Step Process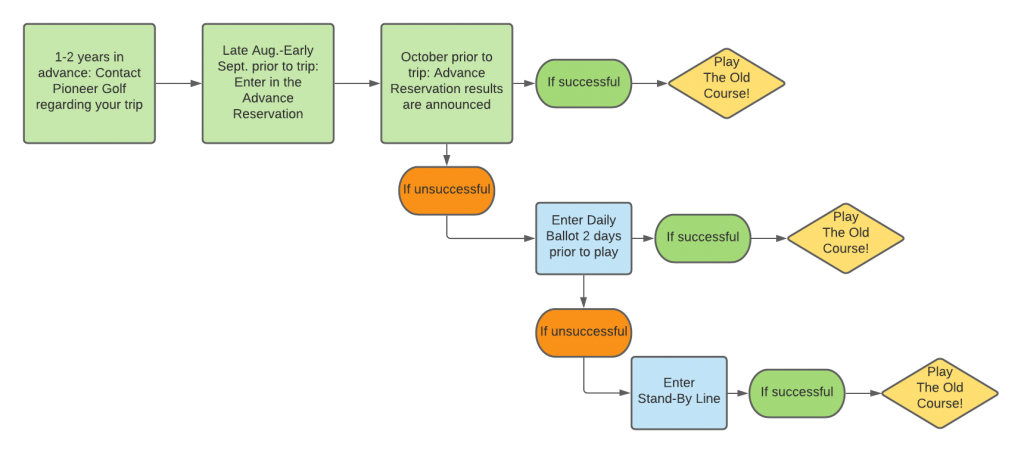 When is the best time to go?